Heritage and future vision


The Miraku Masters
Predecessors
Miraku Kamei XIV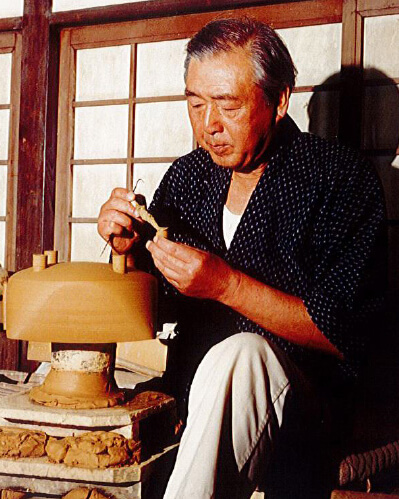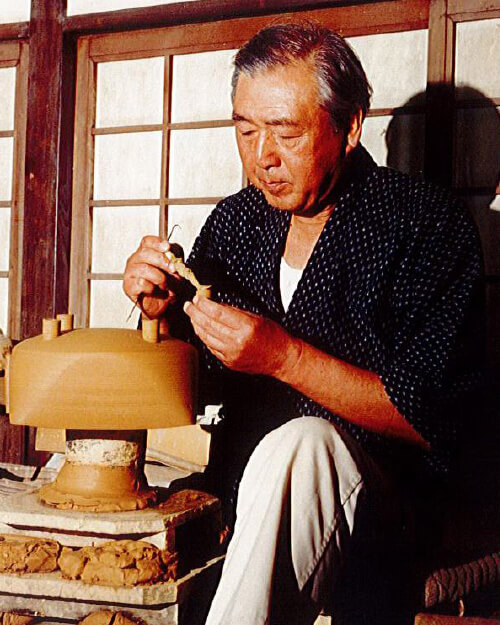 Born in 1931, Miraku XIV excelled at all kinds of tea pottery making. In order to raise the status of Takatori ware to the level of the most prestigious ceramic traditions in Japan, he continually showcased his works both in and outside Japan, winning awards repeatedly at various art and craft exhibitions. (Classically, the three highest ranked schools have been 1. Raku-yaki, 2. Hagi-yaki, and 3. Karatsu-yaki.)
In 1977, he was designated the first "Holder of Intangible Cultural Asset in Art and Craft" by the Fukuoka City government. Then in 1988, he was awarded an "International Art and Culture Prize" (Japan Culture Promoting Association); in 1991, he won a "Fukuoka Prefecture Skilled Person of Merit Prize"; and in 2001, he was awarded a "Yellow Ribbon Medal" (Government of Japan).
His style, which tended to the kind of orderly forms favored by Enshu, exudes an air of relaxation and serenity.
Career
1931
Born on August 6; later studied under his grandfather Miraku Kamei XIII
1975
Princess Mikasa visits Miraka Kiln
1977
Designated "Holder of Intangible Cultural Asset in Art and Craft" by the Fukuoka City government; "Technique of Takatori Ware," Agency for Cultural Affairs; selected as registered technology by Fukuoka City Board of Education (Culture Section)
1982
Takatori bunrin ("apple-shaped") tea caddy was purchased by Fukuoka Prefecture and gifted to the Emperor
1999
"Outstanding Skilled Worker" award (Contemporary Master Craftsman)
2001
"Yellow Ribbon Medal" (Government of Japan); bestowed retirement name "Yushoan" by Settei Roshi of Daitoku-ji Temple (Kyoto)
2014
Passed away, on January 6
Member of Japan Kogei Association
Solo exhibitions at department stores around Japan
Won numerous awards at art and ceramics exhibitions
Representative works
Takatori white-glazed flower vase
with sasamimi ("bamboo grass ear")
handles (white and copper glazes)


This flower vase features lines of studs, and its glazing was performed separately on the top and bottom of the vase. Vases like this were often used in large tea ceremonies of the time, involving dozens of guests. It is a spectacular work with great presence.

Takatori kakewake ("separate glazing")
openwork confectionery bowl (yellow and white glazes)

This bowl for sweets exudes a certain sophistication, even as its openwork design with circle, triangle, and square motifs, borrowed from a famous Zen painting by Sengai, lends the work a meditative air. With its katamigawari ("two tone") glazing, it offers two distinct flavors to enjoy.

Takatori yellow-glazed water container
with fukumimi ("plump ear")
handles (yellow and black glazes)

With its anko ("anglerfish")-style wide opening, this water container features fukumimi ("plump ear") handles. The traditional Takatori ware technique of applying black glaze over yellow glaze produces a deeply beautiful color gradation.

Takatori black-glazed tea bowl
with dojime ("waistband") groove (black glaze)

Although black glaze made using yamasabi ("mountain rust") is one of the seven traditional Takatori glazes, it is rarely used alone. In this piece, the dojime ("waistband") groove adds an essential touch of Oribe flavor to the classical elegance favored by Enshu, resulting in a unique sculptural charm.

Takatori bunrin ("apple-shaped")
tea caddy (white over yellow glaze)

This work is a modern interpretation of "Hakata Bunrin," a renowned karamono Chinese tea caddy said to have once been owned by a wealthy merchant of Hakata called Kamiya Sotan but simultaneously coveted by both Toyotomi Hideyoshi and Kuroda Nagamasa.
Miraku Kamei XIII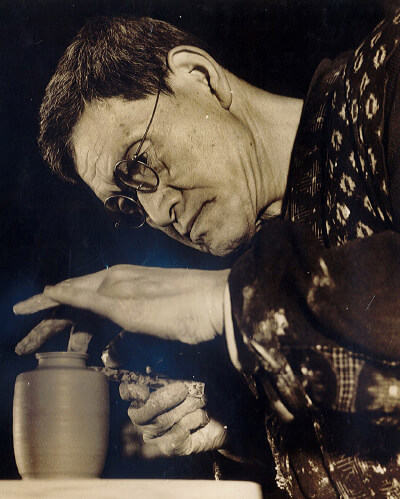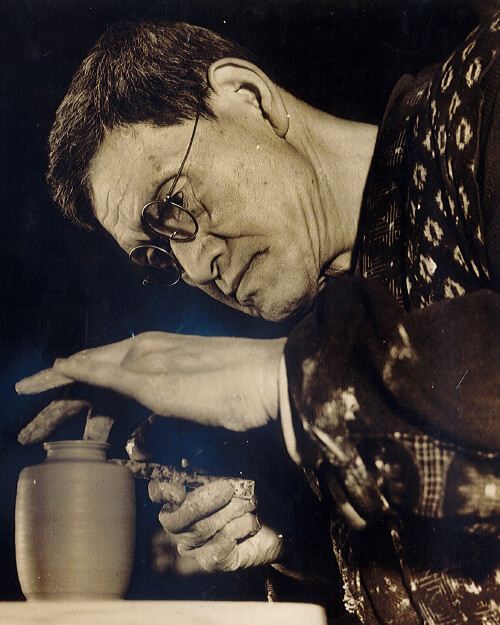 Born in 1883, his real name was Yataro Kamei.
In 1903, after changing his family name to Kamei, he assumed the leadership of the Kamei Miraku Kiln. For a long time, he worked as a member of the Fukuoka City Assembly and other non-pottery related positions, but with the encouragement of Iwai Sorin of Omote Senke (tea ceremony school), he decided to devote himself completely to tea ceramics.
He was a highly regarded craftsman who worked exhaustively to revitalize the Takatori ware tradition. In 1944, he was recognized by the Ministry of Agriculture and Commerce as a "Conservator of Art." His works have a unique elegance lacking in the slightest hint of artificiality, as if they were cut directly from nature. It is a style of tenderness and tranquility.
Representative works
Takatori white-glazed kinegata ("pounder shaped")
flower vase (white and black glazes)

This pounder-shaped flower vase features a black over straw-white glaze. The high firing temperature reached in a climbing kiln enhances the vitrification of glazes to create a superb luster. On top of this, glaze deformation caused by ash lends the work a deeply natural look.

Takatori white-glazed square water container
(black over white glaze)

This clean-cut, handmade piece was created just by shaping on a kick wheel and utilizing a pattern of lines. There is no trimming whatsoever. The white glaze applied with a ladle produces a gentle waviness while the black over white glazing gives a beautiful appearance.

Takatori kakewake ("separate glazing")
confectionery bowl (white, copper, and black glazes)

This work showcases the skillful execution of the kakewake ("separate glazing") technique with three colors. Black and copper glazes are applied over a foundation of white. The darkening effect caused by natural ash that covers the bowl in the climbing kiln enhances the organic look of the finish.

Takatori yellow-glazed tea bowl
(black over yellow glaze)

This bowl is a copy of a hanzutsu ("half cylinder")-shaped bowl, created in the 1630s, when the kiln was located at Mt. Shirohata. The highly refined appearance of the black over yellow glazing is thought to be inspired by the typical coloring of Enshu Takatori.

Takatori tea caddy with mimitsuki ("eared")
handles (black over yellow glaze)

This delicate and meticulous work demonstrates the true essence of the art of Miraku XIII, who was known as "the Miraku of tea caddies." For the benefit of the tea ceremony schools that place matcha green tea directly from caddy to bowl, the shoulder is sloping rather than square.