Heritage and future vision


The Miraku Masters
Miraku Kamei XV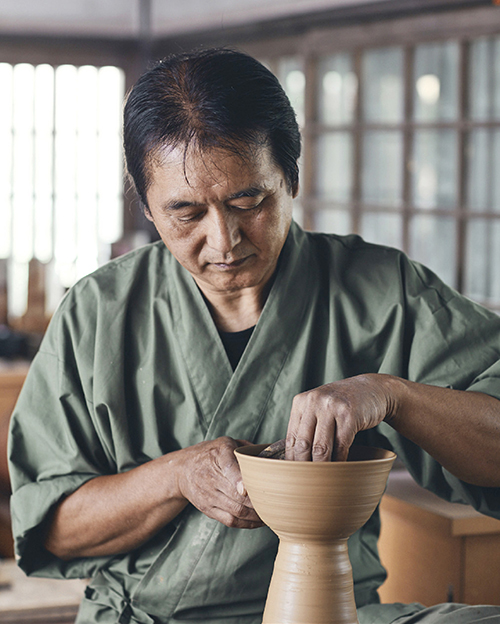 Hands that have learned the
tradition, a mind that pushes
the boundaries of Takatori.
Miraku Kamei XV started making pottery in his early 20s, after graduating from university. Miraku XV started out surrounded not only by his father, Miraku XIV, but also by his uncle, Rakuzan, and a number of pupils and apprentices.
To begin, since he was not permitted to create tea ceremony utensils, he spent his time rapidly producing ordered items. Day by day, as he innocently worked at producing pottery, his hands familiarized themselves with the traditional techniques of the trade. After his father instructed him to try and expand his creative horizons, young Miraku XV, attempting to create some large works for art exhibitions, and won prizes year after year. He even had the opportunity to present his work at "father and son" exhibitions with Miraku XIV and "three-man" exhibitions with his father and uncle, eventually absorbing himself fully in the creation of tea utensils.
At the time, however, he felt that the works of his father and uncle all seemed too alike. While appreciating the need to preserve the essence of the Takatori ware tradition, he felt that it was also important for tea pottery to reflect the individual style of the artist. Like this, he challenged himself repeatedly to seek out originality through glazes. One original glaze that he created in this period resulted in a cherry blossom color evocative of spring. "If I don't keep challenging myself, the tradition will die out," he felt. This is how his desire to push the boundaries of the tradition arose.
Eventually, after he was able to split off from his father and uncle to work in his own workshop, he reviewed "Old Takatori" as part of his effort to grasp the right direction for the tradition's future. No doubt the words of his father echoed in his mind at this time: "Originality is nothing more than originality; it cannot necessarily be called Takatori ware. Learn from the classics." From time to time, young Miraku XV would check out the modern ceramic art scene, but he absorbed most of his inspiration from old works of pottery. The experience of pushing the boundaries of Takatori with the youthful exuberance in his 20s and continually expanding his artistic range and power have had a very positive impact on his current works.
A frontier spirit and tradition,
and the products of their fusion.
Having creatively used the classic Takatori glazes to establish a new style, by his 30s, Miraku XV's artistic direction was clearly evident. Even as he pushed himself to produce innovative works of ceramic art, he continued to master the traditional Takatori techniques. At this stage of his career, he reflected deeply on the true essence of Takatori ware, focusing on its consistently thin structure and on openwork. Finally, he was able to seamlessly fuse traditional Takatori techniques with the new methods he experimented with in his 20s. To illustrate the point, one of his innovations was to combine the borrowed technique of Kyo Mishima with the use of glazes to achieve a Takatori-like finish. At this time, he was obsessively fastidious about every detail of the utensils he made, for example creating intricate oil drop-patterned tenmoku tea bowls and executing elaborate designs even in parts of the object not readily visible.
Future possibilities uncovered from tradition.
It was in his 40s that he formally assumed the title of Miraku Kamei XV. Feeling the weight of responsibility for the lineage, he ceased to make his more playful works. Nevertheless, he continued to exercise creativity and invention using traditional decoration. In the early stage of his succession, he tried out methods such as embellishing shippo (cloisonné) openwork pieces with ruiza (studded) patterns, sometimes happening on unexpected beauty when pouring the glaze. Like this, tradition yielded many eye-opening discoveries to him. In the making of tea ceremony works, the principal objective is usually simplicity, so decoration is considered redundant. On the other hand, though, a piece of tea ceremony pottery without imagination can be unbearably stiff. Instead of aiming at an efficient, controlled work from the outset, Miraku XV's style has always been to first expand the possibilities with decoration and then strive for perfection by scraping and chipping away everything that is superfluous. It was after assuming his title that he perfected his kinkamon ("golden crest") glaze and he also produced numerous works featuring shippo (cloisonné) openwork and inka ("stamped flower") techniques in this period.
Later, through increasingly sophisticated skills, he perfected Enshu Takatori, progressively building an extensive body of work. According to Miraku XV, "an artist who feels satisfied with his current work can only decline." In contrast, he has a burning desire. He explains that his highest goal is to strip away every trace of artificiality to create works that appear as if formed organically.
Career
1960
Born as eldest son of Miraku Kamei XIV; real name Masahisa Kamei
1981
Graduates from Ceramics Course, Dept. of Design, Kyoto Saga University of Art
1991
Earns doctorate in fine art at American Century University
2001
Assumes title of Miraku Kamei XV
2006
Fukuoka City Outstanding Skill Commendation
2015
Fukuoka Prefecture Outstanding Skill Commendation
2016
Solo exhibition in Boston (U.S.A.); lectures and demonstrations at MIT and Harvard University
Present
Member of Japan Kogei Association; director, Hakata branch of Japan Ceramics Society; part-time pottery instructor at Fukuoka City Fukusho High School; instructor at various culture center
Representative works
Takatori gourd-shaped tea caddy
with mimitsuki ("eared")
handles (kinkamon "golden crest" glaze)

The kinkamon ("golden crest") glaze was perfected through repeated research over three generations, starting with Miraku XIII. It is a glaze, derived from the traditional yellow glaze (oyu) of the Takatori tradition, expressing an ultimate kirei-sabi elegance. The delicate structure of the "eared" handles is also outstanding.

Takatori shippo (cloissoné) openwork
tea bowl (black over yellow glaze)

This technique, unique to thinly constructed Takatori ware stoneware, enables the kind of delicate openwork more often associated with porcelain. The design gives careful consideration to handling by keeping the weight comparable to an ordinary tea bowl, despite the double-layered construction.

Takatori yellow-glazed water container
with kudamimi ("pipe ear")
handles (black over yellow glaze)

This work has the standard form of a Takatori water container and features kudamimi ("pipe ear") handles favored by Kobori Enshu. In the typically detailed and delicate style of the Miraku Kiln, the "pipe ear" handles are hollow. The vertical needle-like glaze line is very characteristic of Miraku XV.