Heritage and future vision


The Miraku Masters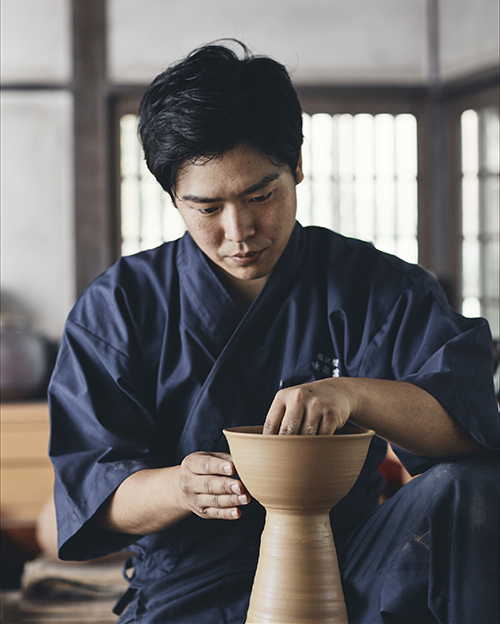 Creativity sprouts only after
craftsmanship is cultivated.
Hisaaki was still only a teenager when he determined to undertake the path of tea ceramics. After graduating from university,he attended a vocational training school to learn the craft of Kyo ware (Kyoto ceramics),where he says he was thoroughly drilled in the techniques of the tradition, without any regard for originality.
Many people think that creativity is very important in ceramic art, but Hisaaki stresses that the value of his education at the vocational school was that it gave him the ability to rapidly and accurately produce pieces of pottery just as he imagines them. He believes this to be an indispensable foundation for his career. Having brushed up his skills like this, he started work at the Miraku Kiln, where he immediately had to create pieces for an exhibition in Boston just four months later. Without any real grounding in the Takatori tradition, he was stricken by terror. His father, Miraku Kamei XV, said that he should be free to make whatever he likes, but this only made him feel even more disoriented. To find his feet, he attempted to copy some of the works of his predecessors, thereby learning about the tradition. At first, he was scarcely able to add any of his own originality to the pieces. Nonetheless, his irritation eventually transformed itself into a passion, inspiring Hisaaki to implement his own distinctive version of Takatori ware.
The new kyokko ("aurora") glaze,
fruit of over 400 years of history.
The most typical color of Hisaaki's works is blue. Traditional Takatori ware has mostly featured earthy hues, so blue items can seem a little out place. However, some old Takatori pieces turned out blue as a result of particular firing methods. In particular,Miraku XIV, Hisaaki's grandfather, created several works with blue coloring. Hisaaki studied these pieces very closely. Based on the fact that the composition of the clay possessed by the Miraku Kiln varies according to the layer and resulting glaze depends on the environment,he analyzed the chemical reactions required to produce his ideal blue. Hisaaki's most important work, "Takatori kyokko ("aurora")-glazed shinogite ("ridged") tea bowl," is an excellent piece of ceramic art, distinguished by a mysterious blue tonal gradation due to the ridges.This glaze was developed by Hisaaki after an exhaustive effort to capture the color of the night sky. He even named the new glaze himself—kyokko, meaning "aurora." As it happens, this tea bowl has been used by the mayor of Fukuoka City and members of the French royal family to enjoy tea. They are not currently for sale.
Hisaaki feels a strong urge to evangelize Takatori ware to younger generations. He points out that initially his father was not very positive about his blue tea utensils of black clay. Hisaaki remains unfazed, though. He states confidently that after reflecting on the relevance of tea ceramics in today's world,as the style of the tea ceremony is changing, he feels that his innovations are very essential.
It is said that there are no glaze colors that cannot be reproduced chemically nowadays, but this freedom has given rise to an environment of increasing conformity and declining individuality. Yet, with its use of multiple natural glazes,Takatori ware is undoubtedly still capable of generating originality. Hisaaki's goal is to firmly establish originality by leveraging the traditional characteristics of Takatori ware in this way, in order to create the greatest Takatori ware possible.
Career
1991
Born as eldest son of Miraku Kamei XV
2014
Graduates from Dept. of Economics, Faculty of Economics, Hosei University Graduates from Comprehensive Course in Molding, Kyoto Prefectural Cera
2016
mists' Technical Institute; "Father & Son" exhibition in Boston (U.S.A.) Nishi Sarayama Kiln Opening 300th Anniversary "Father & Son" exhibition,
2017
Daimaru Dept. Store Hakata (Fukuoka); "Father & Son" exhibition, Keio Dept. Store Shinjuku (Tokyo)
"Father & Son" exhibition, Boston (U.S.A.)
2018
Solo exhibition, Paris (France)
2019
Part-time instructor at Fukuoka City Fukusho High School; pottery instruc
Present
tor, Momochi Palace Culture Center
Representative works
Takatori kyokko ("aurora")-glazed shinogite ("ridged")
tea bowl (yellow, white, and black glazes)

This representative work of Hisaaki features the profound kyokko ("aurora") glaze, developed by exploring new creative ways of utilizing the classic, natural glazes of the Takatori ware tradition. The gradations of blue generated by the ridges call to mind an aurora in the night sky.

Takatori kyokko ("aurora")-glazed water container
(black over white and yellow glazes)

This work is made from black clay, which is unusual for Takatori ware. Only the front of the bowl is glazed, in order to heighten the drama of the contrasting black. The application of a new kind of glaze and the creative use of clay combine to give a modern interpretation to a traditional form.

Takatori kyokko ("aurora")
-glazed sendan("finely stepped") water container
(black over white glaze)


This style of sendan ("finely stepped") water container was first proposed by Miraku XIV, but here it is rendered in a blue referred to as "Hisaaki blue." The irregular surface gives rise to interesting and unforeseeable glazing effects. The resulting visual beauty is remarkably natural.